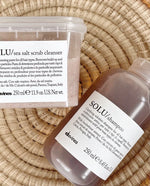 Clarifying shampoo? What is it? Do I need it?
Clarifying shampoo is basically a deep cleansing shampoo, that means it is designed to gently cleanse the hair whilst removing any stubborn product build up or excess oils from the hair/scalp. 
Whilst everyone needs a deep cleanse every now and then, do I recommend it for everybody? Not particularly. 
With a clarifying comes some downsides, frequent use of these types of shampoos can lead to:
-colour fadeage on coloured hair
-brassy/warm tones on coloured or bleached hair
-dryness within the hair & scalp
The reason these can occur is because they are designed for one main reason, and that is to 'deep cleanse the hair shaft & scalp', so unlike normal shampoos where it cleans the very outer layer of the hair shaft, a clarifying shampoo goes a little bit deeper to ensure the hair and scalp is getting a really good clean. So when the shampoo goes deeper into the hair shaft, this affects the colour molecules within the hair, washing them out with every wash. 
In saying this, if you were to use a clarifying shampoo once in a blue moon, the likeliness of seeing colour fadeage is slim. However, the risk is slightly higher with blondes, due to the way toners sit in the hair shaft.
 This can come in handy when you perhaps leave your purple shampoo on too long, or you can notice your blonde getting a bit dull from over use of toners & blonde shampoos. 
Who would I best recommend this for?
Someone with natural colour hair with stubborn oily roots - to be used once every 2nd week.
A person who uses a lot of product in their hair and has trouble getting it fully out - to be used once every 2nd week.
A blonde who finds their hair is getting a bit dull - to be used once a month or right before a colour or toning appointment.
A blonde who has accidentally over blonde shampooed their hair - once after over toning occurs, leave in for a few minutes.
How to use:
Simply replace your usual shampoo with the Davines SOLU (Clarifying) Shampoo, about the size of the cap, rub together in your hands and apply all over, roots to ends and shampoo as normal. Leave for 2-3 minutes then rinse, and repeat. Then condition with desired conditioner or hair mask. 
If you desire a even deeper cleanse on the scalp or hair, Davines SOLU Sea Salt Scrub is perfect. 
The Solu Sea Salt Scrub is more of a exfoliation to the scalp and hair, it leaves you feeling refreshed and cleansed. Just like our face & body, our scalp needs to be exfoliated sometimes also.