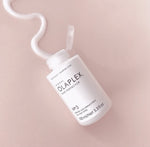 Olaplex no 3 is crutial for all those blonde and balayage gals out there, especially one with more damaged hair that needs strengthening. 
However, Olaplex no 3 can be used on all hair types as it helps every hair on a deep cellular level inside the hair shaft.
HOW TO USE:
Step 1: Apply a generous amount to towel dried damp UNWASHED hair. Comb/Brush gently through throughly before getting more, if needed.
Step 2: Leave on for a minimum of 10 mins, However, the longer the better!
I often suggest to my clients to sleep in it overnight for best results.
Step 3: Rinse well, shampoo twice and condition. Then style as desired.
Remember this is NOT necessarily a conditioning or hydrating treatment. Olaplex strengthens the hair internally, making it healthier than before, but it does not address moisture. If dryness is an issue for you, be sure to follow with your favourite moisture mask.