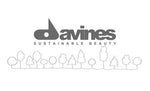 'Being the best for the world, creators of good life for all, through beauty, ethics and sustainability.'


I often get asked, why
Davines
? 
So today I'm going to delve into why I choose Davines.
First of all, I have worked with a few different companies throughout my years of hairdressing including Goldwell, CHI and a few others, small and large companies. Goldwell I adored, and I still do, but overall when I got introduced to Davines I have not looked back.
Davines prides itself in their values and ethics and it is just something I can't let go of. It aligns with the person I am and what I value.
For those who know me, I classify myself as a holistic person and I believe that there is more to a brand than just their results. I am aware that Davines may not be the cheapest brand, but I believe that they hold so much value in what they offer in their products, more than what meets the eye. 
Starting with a brief background of Davines, 
Davines was founded in Parma, Italy in 1983 by the Bollati Family. Davines group started as a research laboratory producing high-end hair care products for renowned cosmetic companies worldwide. After a decade of honing their expertise, they began creating their brand 'Davines Hair Care' exclusively for salons, then later founded a skin care line for premier spas called '[ comfort zone ]' and 'Skin Regimen'. 
The Davines Group are now a B Corp and has a international presence in more than 90 countries with a multicultural staff. 
"BY CREATING BEAUTY SUSTAINABLY, WE ENCOURAGE PEOPLE TO TAKE CARE OF THEMSELVES, OF THE ENVIRONMENT IN WHICH THEY LIVE & WORK, AND OF THE THINGS THEY LOVE." 
- Davide Bollati, President
At Davines, they have rewritten their way of business. Looking at business as a positive force capable of generating profit and at the same time creating a virtuous impact on people and the environment. In 2016, Davines became a certified B Corp. Certified B Corporations are businesses that meet the highest standards of verified social and environmental performance, public transparency and legal accountability to balance profit and purpose. After receiving this certification they then decided to align their objective with the Sustainable Development Goals.
Sustainabilty to Davines has always been a question of responsibility towards ourselves, our customers, our partners, the environment and future generations. Through the SDGs they have chosen to contribute to the sustainable development of the planet, projecting these goals into their corporate strategy.
 You can read more into their sustainability through their
sustainability reports
or
by visiting 
sustaining-beauty.com
Lets talk ingredients! 
Every product by Davines is born from intuition and is processed using the most advanced cosmetic technologies. Their formulations favour the use of ingredients obtained from renewable and eco-stainable sources, whose origins are traceable; of natural origin, biological or eco-certified, biodegradable and those that allow Davines to respect and encourage biodiversity. Davines pay utmost attention to the origin of the ingredients, to their quality and purity. Rigorous tests, both internal and independent, conducted in collaboration with international universities and their research centres, guarantee their effectiveness. 
All of Davines products are designed and made in their lab in Parma, Italy. 
 Unsure of an ingredient? 
Your more than welcome to look them up here -
Davines Glossary
Packaging,
 Davines believe it is necessary to contain, preserve and protect the products, it must also have a minimal impact on the environment. Davines packaging is designed considering the goal to abandon the use of virgin materials coming from fossil fuel, and to ensure their recycling at the end of life. Davines aims to use the bare minimum quantity of material necessary to maintain correct functionality of the packaging. They have simplified their packaging system to elimate unnecessary items eg. Excess lids, wrapping etc. They have also designed packaging to be possibly reused – Davines essentials has actually been made with Tupperware grade plastic allowing it to be washed in a dishwasher and reused for other things like nuts, seeds, hair pins or anything else you can think of!
This is only just the surface of the Davines Group.
Everyday I feel as though I am finding out more on this amazing company. I just adore that they are so passionate about being good for all, and that they see the world as one big eco system. I do believe we are all connected and that we all work together for the continuation of future life.
 I have often said to people, Davines isn't just a brand - it is the whole package, continuously advocating their purpose and mission. Where as some others, the vibe is more about social gain, publicity and/or just a product that does the job. No hate on these companies, as they are great companies and I feel as though there is a market for that, however it doesn't 100% align with me and my values and ethics. I personally like to buy with purpose whilst also seeing incredible results.
I hope this gives insight on the brand I love, and why I choose them. I hope it also gives you some insight to reflect on yourself and the things you value. 
Much love,
E xoxo