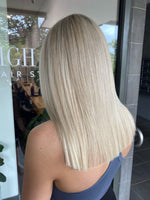 Tips To Achieve Healthy Blonde Hair Goals
Wash your hair 1-2 times a week with professional shampoo & conditioner

– stretching out your washes will help your natural oils comb through, brushing your hair regularly with a

cushion brush

will help distribute the natural oils throughout the hair.
Gently brushing your conditioner/treatment through in the shower can also really up your condition game. Using something like the wetbrush is ideal as the bristles are made to be used on wet hair, to avoid pulling and damage.
Always comb/brush your hair starting from the ends and working your way up to avoid breakage – you also want to avoid being too rough as this can also encourage breakage, if hair is really knotty try a good leave in conditioner/detangler, like Davines Oi Milk.
When using a straightener, MAX 185 degrees & ALWAYS use a heat protectant. 1 or 2 slow strokes is better than 10 fast strokes – this will give you a longer lasting straighten and is less damage.
(Avoid using the straightener more than once each wash, or if you do, turn the temperature down the next use, and only where necessary)  
Sleeping with a silk pillowcase – helps reduce frizz, breakage/damage to the hair and helps keep shinier and healthier.
Hair scrunchies are a must when tying up blonde hair – this will reduce breakage, frizz and damage.
However, material is very important to consider when using scrunchies, the rougher the texture of the scrunchie, the more potential damage can be made on the hair. So, think more silk or velvet
If you are someone who ties your hair up regularly, best thing you can do is change positions of the bun, pony etc, so that there isn't a particular area getting targeted every time.  
Invest in a good hair oil. One that you can apply as much as you want wet or dry hair to help hydrate your blonde ends that need the extra love. I highly recommend Davines Oi Oil as the molecules have been blasted so that the oil absorbs straight in and does not leave an oily finish or an oily feeling on the hair. 
Mirco Hair trims every 8-12 weeks will help your hair to grow and stop your hair from splitting and breaking on the ends. You could also boost this by doing an intensive Olaplex treatment in salon when due for your micro trim. 
DO NOT OVER USE BLONDE SHAMPOO! Overuse of blonde shampoo can be highly damaging to your hair, depending on the brand. Most blonde shampoos are designed for right after the colour service and infrequent use – overuse can cause the hair to dry out, patchiness, tangling and in some cases breakage. Not to mention blonde shampoo on someone who loves a clean bright blonde will create staining on the hair which means more bleach needing to be used on your previously lightened hair next time you're in salon. 
Hair Vitamins can also really help in the growth and condition of your hair. Js Health Hair & Energy vitamins are one I've personally had experience with and so have many of my clients and the results are incredible. 
*Always speak to a healthcare practitioner before taking any supplements/vitamins.
Also don't forget how much sleep, diet, exercise and stress can play a part in the way your hair looks and feels! Such a hard one I know, but it is something to be aware of if you are doing all the things above and not seeing a difference.
If you have any questions or want further detail or recommendations, do not hesitate to ask, I
am always here to help!
.
Much love,
E xoxo
.