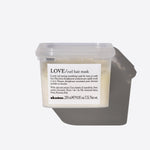 Today I wanted to discuss one of the most loved hair masks by not only myself, but many of my clients, it's called 'Davines Love Curl Mask'.
 It has often occurred to me that when people see it online or see it on the shelf and they read 'Lovely curl taming nourishing mask for wavy or curly hair' they instantly look away whether they have curly hair or not.
 Sure, it says for 'wavy or curly' hair but this doesn't always have to be the case.
 
It is one of those products where it is labelled for something 'in particular' but there is actually more hidden benefits than just what's labelled.
The reason it is originally created for 'wavy or curly' hair is due to the properties of this particular mask.
Most masks are usually designed for colour longevity, nourishment, or strengthening however, this mask is uniquely different.
It is a mask filled with a mix of proteins, B-group vitamins, vitamin E, unsaturated fatty acids, magnesium and much more.
This unique mix is designed to work on the elasticity of the hair which is the way the hair bounces back when stretched. This is a crutical thing for hair that is largely forgotten about. It is what helps our hair be more manageable, controllable, anti-aging/long lasting and much more. 
(I apologise, a bit more complex talk but stay with me) 
Whilst similar to Olaplex(bond building technology), it too works on the inner cortex inside of the hair shaft, but not quite in the same area as Olaplex, elasticity sits around the bonds helping the hair cortex and hair shaft to be elastic so that it can absorb moisture & hydration.
Without elasticity hair looses movement, becomes dry and then starts to split.
Whereas, Olaplex is more about repairing broken bonds so that the hair is as physically strong as it can be internally to avoid breakage and split ends.
Whilst saying all this, 1 mask doesn't cure all, I highly advise switching them up regularly from ones such as olaplex, to one working on elasticity, to hydrating masks to shine inducing, etc.
I know, particularly with Davines products, they have unique ingredients, vitamins and minerals in every single mask/treatment they have made, to give a unique action within the hair.
Best advice, if you are stuck on what mask/treatment to try next? It would be to seek recommendations from either myself or a professional for your hairs needs in that particular stage in your hair goals.
That is how my clients have come to find this mask & fallen inlove with it.
I hope this helps give a slightly deeper understanding into product specifics and as to why there is so many out there, and also to learn more about this amazing Davines Love 'Curl' Mask!
To View or learn more about Davines LOVE Curl Mask, Click HERE.
For more products that work on elasticity in particular;
Davines Replumping Shampoo
Davines Replumping Conditioner
Davines Replumping Superactive
Davines LOVE Curl Enhancing Shampoo
Davines LOVE Curl Enhancing Conditioner
Davines LOVE Curl Hair Mask
For all available treatments, Click HERE.