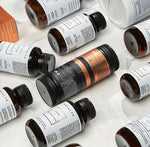 JS Health Vitamins? What are they?
JS Health Vitamins have become huge movement especially with their Hair & Energy vitamins. Bringing out new vitamins regularly due to their popularity.
Js Health is a vitamin company created by clinical nutritionist Jessica Sepel. She wanted to assist in helping you naturally nourish your body, helping it find equilibrium, using only the best quality research backed ingredients, prioritizing natural & sustainable options.
'JS Health began when Jessica Sepel, started a blog documenting her struggles with fad dieting and her relationship with food and her body.
After battling with restriction and deprivation and attempting every diet under the sun, Jess began to heal her relationship with food. Her nutrition studies empowered her to make more informed decisions about her health. Her determination to help others going through similar struggles, and to share her journey led to the start of one of the biggest health empires in Australia.
Years later, Jess is now a three times best-selling health author, and the creator of JSHealth App and 8-Week Program.
Jess is a strong advocate of nourishing your body naturally, using whole foods which make you feel fantastic, whilst still allowing occasional indulgences. After all, she believes in health as a sustainable lifestyle choice, which can be enjoyed! She is all about balance.
This commitment to naturally nourishing your body led her to develop the range of natural vitamins, all targeted towards specific health concerns including bloating, hair and skin health, digestion, gut health, energy and sleep. These products futhered her passion for using natural, proven ingredients to help her community feel their best and restore their confidence in their own bodies.'
All of the vitamins are supported by scientific research and approved by TGA (Therapeutic Goods Administration) in Australia.
 All of JS Vitamins are gluten free. 
Majority of their vitamins are also vegan, excluding JS Health Fish Oil.
Js Health Hair & Energy may contain traces of crustaceans due to the Kelp contained in the vitamins being sourced from the ocean, so this technically means this formula is not vegan.
Some of the most popular vitamins with over 800 5 STAR reviews are - JS Health Hair & Energy, JS Health Detox & Debloat and JS Health Skin & Digestion.
Here are just some of the reviews;
For more real story reviews, visit https://jshealthvitamins.com/pages/reviews .
I will go into more depth on particular JS Vitamins in the near future on a different blog post.
I hope this gives you some insight into JS Health Vitamins and their ethics and story.
*Hair By Elise & JS Health always encourages customers to avoid solely relying on JS Health for information regarding your health, and to seek advice from a health professional to ensure any products are suitable for your individual needs.
Further information can be found via; jshealthvitamins.com