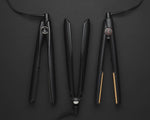 Whats the difference between straighteners?
Today I am discussing the differences between straighteners, and in particular I will be mainly covering GHD.
 In the past, even I, a hairdresser by trade have thought "what really is the difference in straighteners, like what makes one better than the other? Aren't they all pretty much the same at the end of the day?"
 After years of working with multiple brands and experiencing them myself, I have become more and more educated on them and their differences and why there's two specific brands known to be the most loved.
 Generally speaking, for years straighteners have been made one way, made with 1 heat element that radiates down each heat plate.
 GHD found that no matter what the straightener was made of (ceramic, tourmaline, titanium) this technique of creation was actually worse off for the hair. GHD have always been adamite on finding what is best for the hair – in the moment of styling and for the long term. Constantly retesting and reinventing.
 With this creation of 1 heat element, it means we actually get uneven heat results. So, whether we are curling, and the curl becomes slightly uneven or drops out in certain areas more than others, or we are straightening, and we feel like we have to go over spots 10 times just to get it smooth – This is usually because of the uneven heat.
 GHD tested and tested and discovered that using multiple heat radiators in the plates, along with their set optimum temperature 185 degrees was the perfect eliminator of the uneven heat and uneven results.
 For those of you who don't know – GHD has one set heat temperature throughout their tools, 185 degrees. This is because they have tested and found that the optimum heat temperature for results & condition/longevity of the hair was 185 degrees. Anymore and it compromised the hair, and any less it would not restructure the hair enough during styling.
 Going back to the multiple heat radiators – I'm going to go more in depth about each of their heat tools and their differences and what hair they are best for.
This one has been around for years! This GHD IV is one of the truest to their original iron as possible. The technology in this one is quite similar to many other brands, 2 heat elements, 1 in each plate. This is common. However, with GHD's knowledge and education, it is still pre-set to 185 degrees. You may experience slight uneven heat, where certain spots are hotter or cooler than others, but this is due to the older original knowledge in the heat tool industry.
Who is this best for?
This is an awesome straighter, designed for those who have medium-thick hair, who may not use it very often, hence why the price point is quite low in comparison to other models. I would say it is more of your basic styling tool, perfect when you only straighten your hair once every fortnight. It is also great for curls, but once again only in moderation. I say this due to the heat elements.
This model is their mid-range. Its slightly pricier compared to the Original IV. This is designed with 2 heat elements (known as dual zone technology) on each plate, evenly distributing the heat throughout styling. This one also has their secret glaze that is on top of their ceramic plates, to help achieve a smoother, shinier finish when styling.
 Who is this best for?
This straightener is perfect for those with medium-thick hair, who use their heat tools reasonably often. Perfect for creating curls and sleek smooth looks.
GHD Curve, GHD Glide & The Old GHD Platinum
These models are created with their improved version of the 'zone technology', ultra-zone technology. This ultra-zone technology is heat radiators every cm square, assisting to create the perfect long-lasting curl/straighten.
This straightener is their newest to the family, it is probably one of the most futuristic straighteners. Combined with the ultra-zone technology, it has PREDICTIVE technology, which means – as your straightening it is checking 3000 times per second what temperature it needs to adjust to for your hair. This means healthier hair, colour protection and styling tailored to your hair! Studies showed hair styled with the Platinum + was 70% stronger, 30% less colour fading and 20% more shine!
 Who is this best for?
 This is perfect for fine-medium hair or damaged/coloured hair. Fantastic for those who use their styler every day and love their hair smooth and straight.
Other tools with this technology GHD Rise.
GHD Rise is a heated round brush designed to create body and a blow dry look on dry hair.
Cloud Nine Original Iron is another popular brand along with GHD. The technology is similar to GHD Gold, however Cloud Nine has a heat temperature control, which brings comfort to some people , knowing they can pick what temperature they want, for example 180 degrees on the first day of styling, and perhaps 120 degrees for the touch up on the days after. The only thing is, Cloud Nine goes higher than 185 degrees which I would highly recommend never exceeding that.
 Who is this best for?
This styler is perfect for those who use their straightener regularly and love to have control of the temperatures they use. Great for curls & long-lasting straightening.
Heat elements and temperatures are the main point of difference between straighteners and what makes them perform better. However, I hope this gives some insight to the benefits of the different types of straighteners and I hope that you can have more clarity now when purchasing your next heat tool.
For any questions or recommendations, please do not hesitate to contact me via business@hairbyelise.co .
For any other information on GHD or CloudNine, you can read more on their websites: