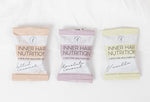 What is Inner Hair Nutrition?
Nourishing Body Co & Hair By Elise believe great hair starts from within.
Nourishing Body Co created their Inner Hair Nutrition bites as a functional food which helps support and maintain the health of your hair from within. Infused with high quality active ingredients such as collagen, Biotin and Hyaluronic Acid along with some key vitamins and minerals.
The Inner Hair Nutrition bites are the perfect way to maximise your hair health and they taste great too!
COMMONLY ASKED QUESTIONS
What flavours do they come in?
- Chocolate Coconut
- Vanilla
- Salted Caramel
What type of Collagen do they contain? 
Inner Hair Nutrition bites contain Bovine Collagen.
Collagen is a naturally occurring protein, found in abundance in our bodies. It plays a role in assisting the strength and hydration of our hair, skin, nails, muscles, tendons, ligaments, bones, teeth, eyes etc. Bovine Collagen helps to supply your hair follicle with vital amino acids which the body can then use to create keratin; the protein which makes up about 70-80% of your hair shaft.
Each bite contains 2000mg of pasture raised Bovine Collagen.
What is Hyaluronic Acid?
Hyaluronic Acid is well known in the beauty world for its amazing moisture retaining abilities. Maintaining hydration within the hair bulb and scalp helps to keep your hair soft and supple. Hyaluronic Acid can also assist in countering hair loss and creating diameter, or thickening, your hair strand.
What is Biotin?
Biotin is a complex B Vitamin that works to help the body extract energy from carbohydrates and fats and can help to boost the cell repairing properties of Collagen and Hyaluronic Acid.

How much sugar is in the Inner Hair Nutrition Bites?
Each bite contains just 3.9 grams of natural sugar. Each Bite are naturally sweetened with Monk Fruit extract which is traditionally used in Chinese medicine for its anti-inflammatory properties; it has also been known to improve immunity.  
How many bites a day do I consume?
The recommended serving is 1 bite per day.
When can I expect to see changes?
In a recent 30 day product trial, consumers started to noticed changes within 7 days of eating the recommended 1 bite per day. Individuals result may vary.
Click here to see the results
What allergens do the bites contain?
Inner Hair Nutrition Bites contain no gluten or GMOs and are formulated with all natural ingredients. They also contain no artificial colours, flavours or sweeteners. Please note they are manufactured in a facility that also processes peanuts, tree nuts, sesame, soy and dairy.
Are the Inner Hair Nutrition bites vegan?
They are dairy free however, As Bovine Collagen is a key ingredient, they are not vegan.
*Please Note: Whilst all ingredients are natural, Hair By Elise Draper & Nourishing Body Co always recommend seeking professional advice before using Inner Hair Nutriton Bites or any other supplements.